Sustainable and responsible: Schwabe Extracta receives the FairWild label
15.12.2023 - Pelargonium, the Capeland geranium we use to obtain the special extract EPs® 7630 for our product Kaloba®, is a true survivor in the plant world and grows in extreme climactic conditions in southern Africa.
Traditionally the plant grows wild and is harvested as such. We make sure that only trained people gather the roots; we have implemented a resource- and sustainability-management program to ensure that the plants are handled sustainably and thus are protected on a long-term basis.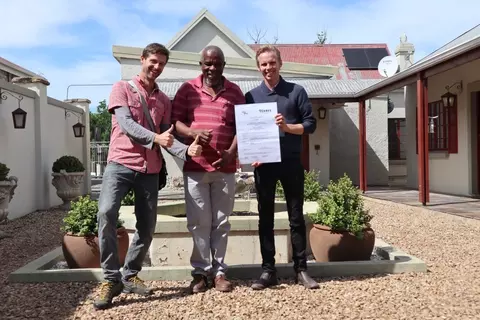 Now our harvesting process for gathering wild pelargonium roots in South Africa has received the FairWild label. This means the way Schwabe Extracta gathering wild pelargonium roots in South Africa has been certified as sustainable and responsible. 
In the course of issuing certification, FairWild Foundation reviews factors such as whether fair wages are paid and working conditions are good. The gathering process has to be environmentally friendly and sustainable. To this end, the workers who harvest have to undergo proper training on a regular basis.
In addition to harvesting the plant in the wild, we have been farming it in South Africa since 2005, which is a trail-blazing endeavor and was thus a major challenge. Thanks to the help of our partner Kirklington, we were able to perform the necessary amounts of complex research to facilitate farming under climactically challenging conditions. With its growing area of around 50 hectares / over 135 acres, our pelargonium farm is a one-of-a-kind around the globe!
Pic: Our colleague Philipp Nuss (left) when the certificate was presented in South Africa.